iTEMP TMT82 HART® 7 temperature transmitter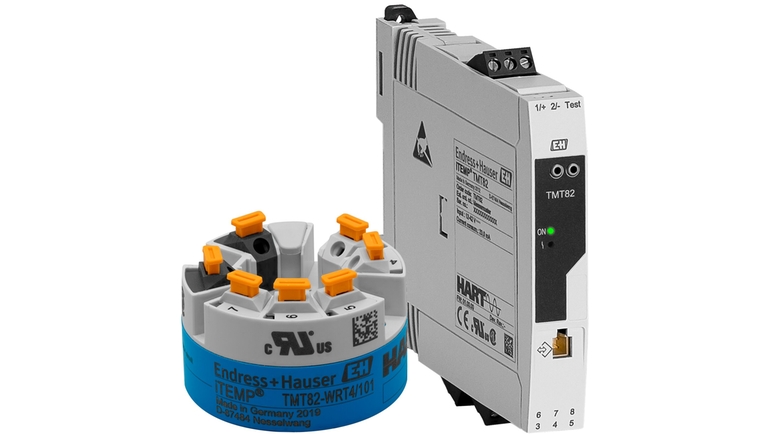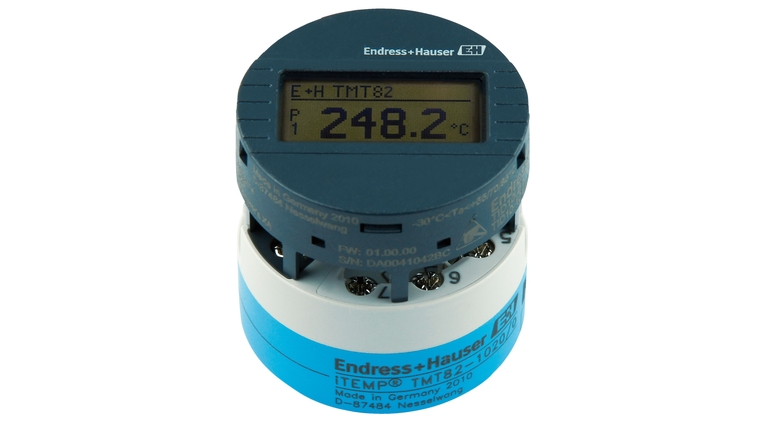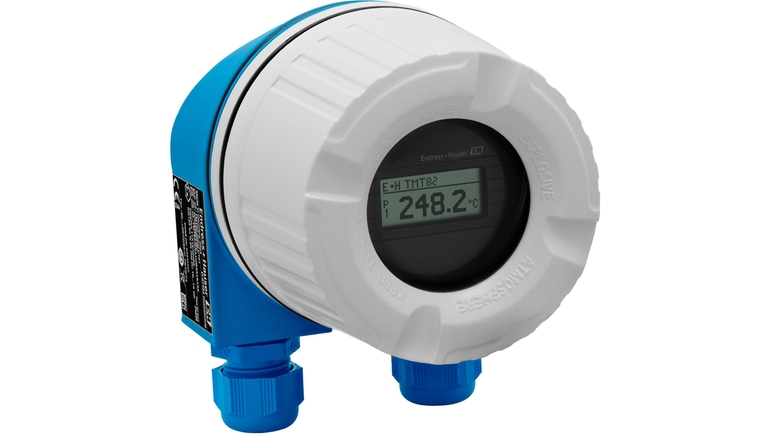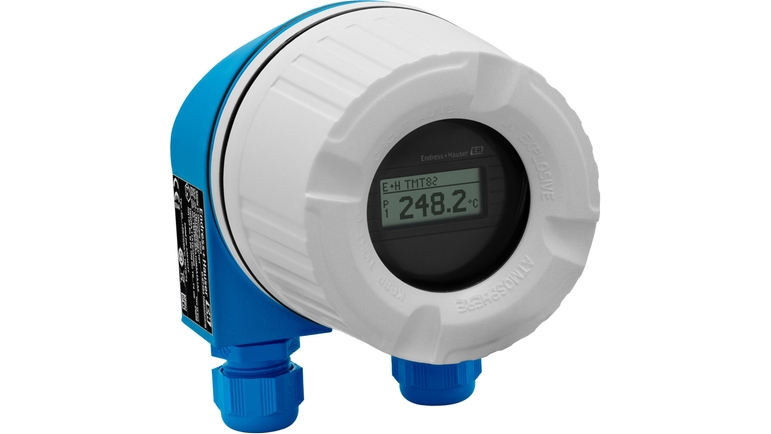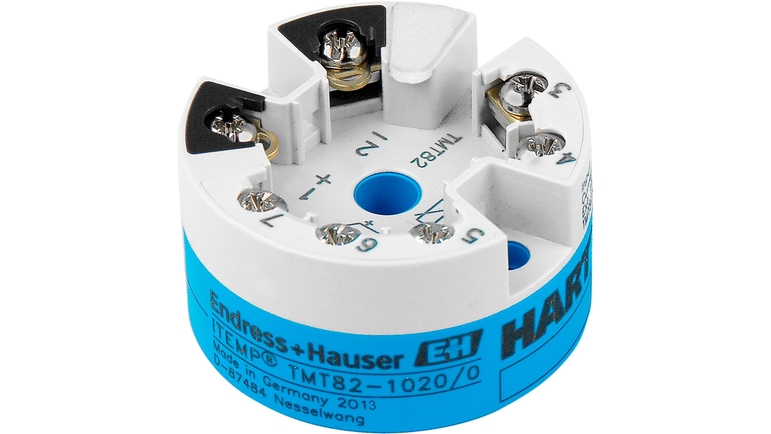 Dual channel, SIL compliant temperature transmitter for use in hazardous areas
The iTEMP TMT82 is a highly reliable, accurate and long-term stable temperature transmitter for industrial processes requiring high availability.
The versatile 2-channel device converts universal sensor inputs such as thermocouples or RTD into stable, scalable 4 to 20 mA output signals and HART® communication. With its built-in smart sensor monitoring capability and diagnostic status information according to NAMUR NE 107, the SIL 2, SC3 certified transmitter increases process safety and uptime.
Produtos simples

Fácil de escolher, instalar e operar
Excelência técnica
Simplicidade
Produtos padrão

Confiável, robusto e baixa manutenção
Excelência técnica
Simplicidade
Produtos com tecnologia de ponta

Altamente funcional e prático
Excelência técnica
Simplicidade
Produtos especializados

Desenvolvidos para aplicações exigentes
Excelência técnica
Simplicidade
Versões FLEX
Excelência técnica
Simplicidade

Versão Fundamental

Atende suas necessidades básicas de medição

Excelência técnica

Simplicidade

Versão Lean

Lida com seus principais processos facilmente

Excelência técnica

Simplicidade

Seleção Extended

Otimiza seus processos com tecnologias inovadoras

Excelência técnica

Simplicidade

Versão Xpert

Controla suas aplicações mais difíceis

Excelência técnica

Simplicidade
Especificações resumidas

Accuracy

(Pt100) <= 0,1K (digital) + 0,03% (set range)
Loading alternative products
Seleção rápida
Escolha uma das opções sugeridas
Configuração individual
Continue sua seleção entre todas as opções possíveis
Componentes adicionais

Benefícios

Robust temperature transmitter delivering precise, long-term stable measurements for high plant availability

SIL certification up to SIL2, SC3 according to IEC 61508:2010

Versatile mounting and housing options:
terminal head form B, DIN rail, field...
Campo de aplicação

Safe operation in hazardous areas; International approvals such as FM, CSA, ATEX, EAC, NEPSI, IECEx, DNV GL

2-channel universal signal inputs: RTD, thermocouple, resistance (Ω) and voltage transmitters (mV), HART® 7 protocol

Suited for use in marine...
Documentos / Manuais / Software
Acessórios / peças sobressalentes
The unit is not repairable

Fixing kit cpl.TMT8x/7x (european)

2x screws, 2x springs, 2x spring rings, 1x sealing CDI-connector

Fixing kit cpl. TMT8x/7x USA(american)

2x screws, 1x sealing CDI-connector

Set mounting bracket wall cpl. W06 std

Set mounting bracket pipe housing W06 st

Spare parts kit DIN rail terminal plug

TMT82

Mount.bracket st.steel A4 wall/tube 2"

TID10 Service cable

Extension cable for the CDI-interface for remote operation of the TID10 display for service and maintenance work. Length: 40cm.

DIN rail clip

according to IEC 60715 for temperature head transmitters.

Spare RFID TAG

Consists of: RFID TAG, fixing wire, crimp sleeve.

Cover latch spares kit field housing

Screw, washer, spring washer

M20x1.5 cable gland, 2xD0.5 cables

for 2 sensors

Cable gland NPT1/2, 2xD0.5 cables

for 2 sensors

Blind plug M20x1.5 EEx-d+O-ring Alu

Blind plug M20x1.5 Ex-d+O-ring V4A

Blanks (blind) NPT1/2, 3.1655.53

Foam insert TMT82 dual chamber

Commubox FXA195

Modem to connect HART field devices to a computer via USB. Commissioning of field devices with software tool. :: To connect to a intrinsically safe signal circuit. :: SIL2, IEC61508.

Display Unit Head Transmitter

to plug on. Dot-Matrix measured value display. 12 DIP-switches buttom side. Settings: FF: Simulation, Write Lock. PA: Bus address, Write Lock. Compatible: TMT85, TMT84, TMT82, TMT71, TMT72.
Histórias de sucesso
Autoclaves médicas

Nova tecnologia de sensores automatiza recalibrações para reduzir riscos em esterilizações em lote. Saiba mais!