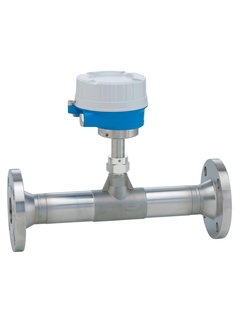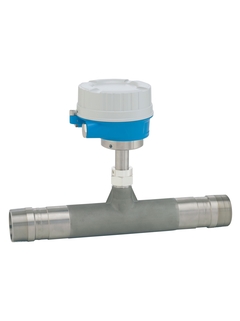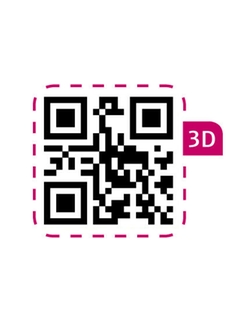 Especificações resumidas
Max. measurement error

Gas: 1.0% o.r. (10 to 100% o.f.s.), 0.1% o.f.s. (1 to 10% o.f.s.)

Measuring range

0.5 to 3750 kg/h (1.1 to 8250 lb/h)

Medium temperature range

-40 °C to +180°C (-40 °F to +356 °F)

Wetted materials

Measuring tubes
• DN 15 to 50 (½ to 2"): stainless cast steel, CF3M/1.4408
• DN 65 to 100 (2½ to 4"): stainless steel, 1.4404 (316/316L)
Process connections
Flange connections
Stainless steel, 1.4404 (F316/F316L)
Threaded connections
Stainless steel, 1.4404 (316/316L)
Sensing element
Unidirectional
• Stainless steel, 1.4404 (316/316L)
• Alloy C22, 2.4602 (UNS N06022);
Bidirectional
Stainless steel, 1.4404 (316/316L)
Reverse flow detection
Stainless steel, 1.4404 (316/316L)
Campo de aplicação
The patented sensor design of t-mass F provides unprecedented measurement stability in thermal inline mass flow measurement. It compensates in real time for changes of process conditions: temperature, pressure, flow direction and gas type. The innovative remote transmitter von t-mass F 500 maximizes installation flexibility and operational safety in demanding environments. Heartbeat Technology ensures measurement reliability and compliant verification.
Measuring principle is characterized by a high operable flow range and direct mass flow measurement

Measurement of utility and process gases as well as gas mixtures in small line sizes
Device properties
Inline version with DN 15 to 100 (1/2 to 4")

Bidirectional measurement; high measuring performance

Patented drift-free sensor with SIL 2

Remote version with up to 4 I/Os

Backlit display with touch control and WLAN access

Standard cable between sensor and transmitter
Benefícios
Flexible, convenient programming based on 21 standard gases or freely definable gas mixtures thereof


High level of process control – premium measurement accuracy and repeatability


Reliable monitoring – detection of process disturbances and reverse flow


Easy maintenance – removable sensor


Full access to process and diagnostic information – numerous, freely combinable I/Os and fieldbuses


Reduced complexity and variety – freely configurable I/O functionality


Integrated verification – Heartbeat Technology

Seleção Extended
Produtos com tecnologia de ponta

Altamente funcional e prático
Excelência técnica
Simplicidade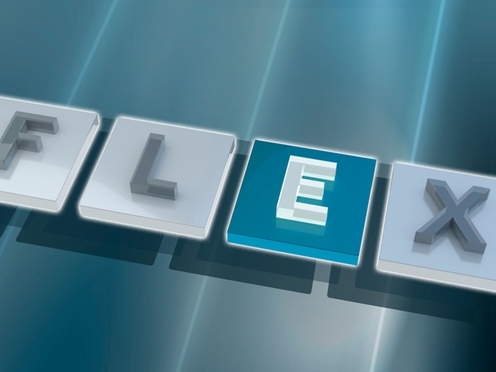 Loading alternative products
Histórias de sucesso
Build-up monitoring

A water treatment plant in Germany faced the problem of unexpected downtime due to clogged water wells. With Heartbeat Technology build-up index the customer now monitors iron build-up in his process.
Produtos simples

Fácil de escolher, instalar e operar
Excelência técnica
Simplicidade
Produtos padrão

Confiável, robusto e baixa manutenção
Excelência técnica
Simplicidade
Produtos com tecnologia de ponta

Altamente funcional e prático
Excelência técnica
Simplicidade
Produtos especializados

Desenvolvidos para aplicações exigentes
Excelência técnica
Simplicidade
Versões FLEX
Excelência técnica
Simplicidade

Versão Fundamental

Atende suas necessidades básicas de medição

Excelência técnica

Simplicidade

Versão Lean

Lida com seus principais processos facilmente

Excelência técnica

Simplicidade

Seleção Extended

Otimiza seus processos com tecnologias inovadoras

Excelência técnica

Simplicidade

Versão Xpert

Controla suas aplicações mais difíceis

Excelência técnica

Simplicidade
Também pode ter interessar