1-channel transmitter
Liquiline CM14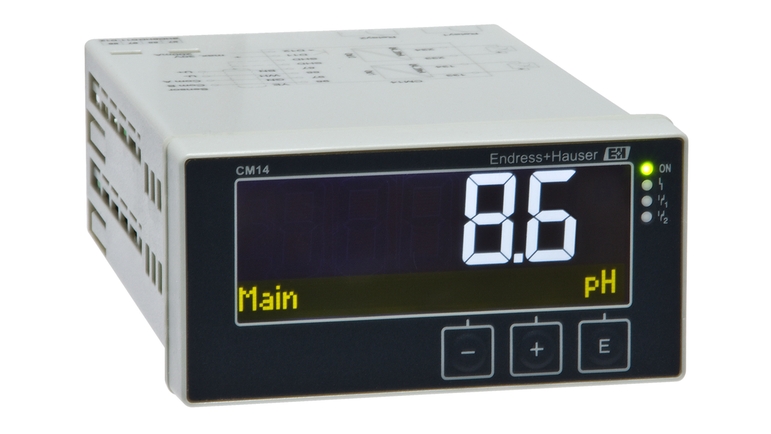 Compact panel device for the food, power, water and wastewater industries
Liquiline CM14 is a basic transmitter that offers all that you need to run a standard measuring point. It fits in the common cabinet cut-outs and is easy to commission thanks to Memosens digital technology. The Memosens hot plug and play concept allows you to quickly install and configure your digital pH/ORP, conductivity or dissolved oxygen sensors. Liquiline CM14 is compact, easy-to-operate, and cost efficient.
Produtos simples

Fácil de escolher, instalar e operar
Excelência técnica
Simplicidade
Produtos padrão

Confiável, robusto e baixa manutenção
Excelência técnica
Simplicidade
Produtos com tecnologia de ponta

Altamente funcional e prático
Excelência técnica
Simplicidade
Produtos especializados

Desenvolvidos para aplicações exigentes
Excelência técnica
Simplicidade
Versões FLEX
Excelência técnica
Simplicidade

Versão Fundamental

Atende suas necessidades básicas de medição

Excelência técnica

Simplicidade

Versão Lean

Lida com seus principais processos facilmente

Excelência técnica

Simplicidade

Seleção Extended

Otimiza seus processos com tecnologias inovadoras

Excelência técnica

Simplicidade

Versão Xpert

Controla suas aplicações mais difíceis

Excelência técnica

Simplicidade
Especificações resumidas

Input

Output / communication

Ingres protection

Front IP65 , NEMA 4X, Body IP20
Loading alternative products
Seleção rápida
Escolha uma das opções sugeridas
Configuração individual
Continue sua seleção entre todas as opções possíveis
Componentes adicionais

Benefícios

Saves space, saves money: Good price-performance ratio and small footprint – perfect for skids.

Easy to operate: Plug & play with pre-calibrated Memosens sensors.

Reliable and safe measurement: Memosens technology offers digital signal transmission and...
Campo de aplicação

The Liquiline CM14 panel transmitter is suitable for all applications in non-hazardous areas, for example in these industries and their utilities:

Food & Beverages

Power & Energy

Water & Wastewater

Liquiline CM14 features the following protocols and...
Documentos / Manuais / Software
Acessórios / peças sobressalentes
Terminal plug-in 3pol.for power supply

Ecograph/Memograph/S + Alphalog from unit No.410297XA RIA45, grey coloured connector

Terminal strip 4pole FMC1,5/4-ST-3,5

Memograph M for analog output (on digital I/O board) RIA45 for analog input non Ex (terminal x1,x2,x3,x4 + x5,x6,x7,x8)

Terminal strip 3 pole FKC2,5/3-ST-5,08

for relay 1 + 2 (two way)

Terminal strip 4pole space 3.81 non Ex

Terminal analog output 1 + status output (DI11,DI12,O15)
Histórias de sucesso
Boiler water monitoring made easy

With the SWAS Compact Panel, the continuous monitoring of quality parameters such as pH and conductivity in cheese production can be automated and simplified.

The all-round carefree panel

Water Analysis Panels make continuous monitoring of drinking water easy at the water treatment plant in Frasnacht, Switzerland.

Compliance made easy

The automated phosphate monitoring with Liquiline System CA80PH helps the food company Pasfrost ensure the compliance with the strict limit values for its industrial wastewater.
O monitoramento de água salva vidas

A água é cada vez mais considerada um produto valioso na maioria dos países. Portanto, a aceitação do desperdício de água está diminuindo continuamente e a necessidade de controlar a qualidade da água está aumentando.