This product is not available in this market.
Resumo dos benefícios
Monitor your wastewater applications reliable with the digital Memosens 2.0 sensor CPF81E even in demanding and harsh environments such as the influent of a WWTP. Profit from reliable measurement in abrasive media, maximum process integrity and simple operation. Moreover, the great flexibility of the Liquiline transmitter plattform makes the measuring point future-proof and adaptable according to your needs.

Digital Memosens 2.0 technology

Simple operation thanks to true plug and play system and helpful overview of the last eight calibrations and adjustments.

Ready for predictive maintenance

State of the art technologies as the pH load matrix and Heartbeat Technology allow full predictive maintenance. A PLC is not needed with the Liquiline transmitter, providing maximum flexibility for operators.

Flexibile adaptation

The modular fitting system allows almost any type of fixing, in open basins or channels. A modification or expansion of the assembly is possible at any time.

Buffer solution from accredited production

NIST traceable buffer solutions offer precision in measurement and adjustments, ensuring best performance.
Detalhes do pacote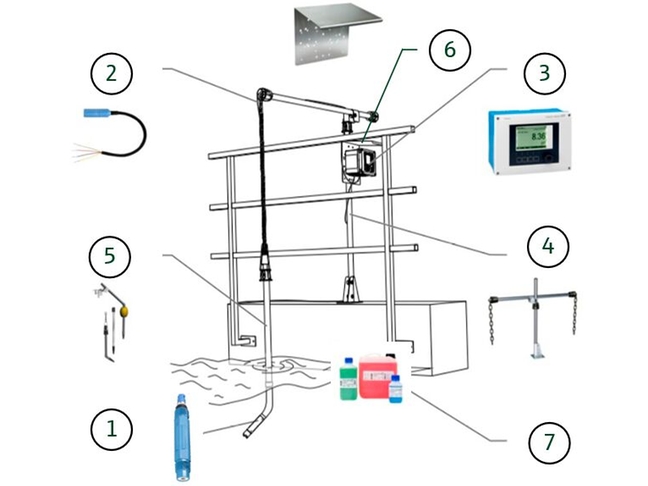 Componentes e pré-configurações
Para assegurar a compatibilidade dos componentes com outros, são necessárias algumas fixações. Os parâmetros abertos propiciam a você liberdade para configuração individual.

Os componentes podem ser configurados no pacote que está no carrinho

1

Digital pH sensor
Memosens CPF81E

Versão básica, conexão de processo NPT 3/4", ponto zero pH 7,0, sensor temperatura NTC 30k

0–11 pH, 0…80oC, 0,8…11 bar (abs)

Junção de anel de teflon, câmara dupla, 3 M KNO3, 3 M KCl, Ag/AgCl

23 mm, membrana de bulbo, protetor de el

2

Digital measuring cable
CYK10

3

1-/2-channel transmitter
Liquiline CM442

Conjunto de entrada de cabos:

4

Modular holder system
Flexdip CYH112

5

Immersion assembly
Flexdip CYA112


Ângulo de ligação do sensor:

6

Weather protection cover CYY101

aço inoxidável, 320x300x300mm

7

Soluções-buffer de pH
CPY20


Buffer analysis certificate

8

Soluções-buffer de pH
CPY20


Buffer analysis certificate
Produtos simples

Fácil de escolher, instalar e operar
Excelência técnica
Simplicidade
Produtos padrão

Confiável, robusto e baixa manutenção
Excelência técnica
Simplicidade
Produtos com tecnologia de ponta

Altamente funcional e prático
Excelência técnica
Simplicidade
Produtos especializados

Desenvolvidos para aplicações exigentes
Excelência técnica
Simplicidade
Versões FLEX
Excelência técnica
Simplicidade

Versão Fundamental

Atende suas necessidades básicas de medição

Excelência técnica

Simplicidade

Versão Lean

Lida com seus principais processos facilmente

Excelência técnica

Simplicidade

Seleção Extended

Otimiza seus processos com tecnologias inovadoras

Excelência técnica

Simplicidade

Versão Xpert

Controla suas aplicações mais difíceis

Excelência técnica

Simplicidade