TR65
Explosion-proof Pt100 Thermometer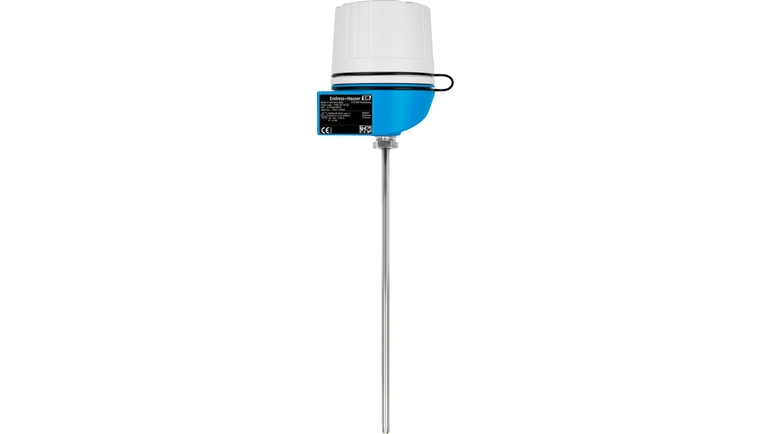 Safe monitoring of process temperatures in challenging applications e. g. in the Oil & Gas industry
The robust thermometer designed for use in demanding and safety relevant applications e.g. in the Chemical, Oil & Gas and Energy industry. An optional head transmitter with all common communication protocols makes the device ready to use with enhanced measurement accuracy and reliability compared to directly wired sensors. The sensor may be used in direct contact without thermowell or where the application requires it, spring load inside of a separate thermowell. Flexible configuration possible.
Seleção rápida
Escolha uma das opções sugeridas
Configuração individual
Continue sua seleção entre todas as opções possíveis
Benefícios

Types of protection for use in hazardous locations: Intrinsic safety (Ex i.a.), flameproof (Ex d), non-sparking (Ex nA)

High degree of insert compatibility and design as per DIN 43772

High degree of flexibility thanks to modular design with standard...
Campo de aplicação

Fine Chemicals

Petrochemical industry

Power stations

Environmental engineering

Measuring range: -200 to +600 °C (-328 to 1112 °F)

Static pressure range up to 75 bar dependent on the used process connection

Protection class: IP68
Documentos / Manuais / Software
Acessórios / peças sobressalentes
Fixing kit cpl.TMT8x/7x (european)

2x screws, 2x springs, 2x spring rings, 1x sealing CDI-connector

iTEMP TMT84, Transmitter PA

Dual sensor input. Advanced diagnostics:sensor monitoring. PROFIBUS PA Profile 3.02. Galvanic isolation 2kV. Application: RTD, TC, Ohm, mV. Current consumption: 11 mA. Mounting: head form B, DIN EN50446. Factory setup: CH1: Pt100, 3-wire, oC. CH2: inactive. Differing configuration optional selectable.

iTEMP TMT85, Transmitter FF

Dual sensor input. Advanced diagnostics: sensor monitoring. FOUNDATION Fieldbus protocol Galvanic isolation 2 kV. Application: RTC, TC, Ohm, mV. Current consumption: 11 mA. Mounting: head form B, DIN EN50446. Factory setup: CH1: Pt100, 3-wire, oC. CH2: inactive. Differing configuration optional selectable.

Display for head transmitter TID10

to plug on. Dot-Matrix measured value display. 12 DIP-switches buttom side. Settings: FF: Simulation, Write Lock. PA: Bus address, Write Lock. Compatible: TMT85, TMT84, TMT82.

Readwin 2000 Operation + Read. software

Configuration kit TXU10-

for PC-programmable devices. set-up programme+interface cable for PC with USB-Port.

Commubox FXA195

Modem to connect HART field devices to a computer via USB. Commissioning of field devices with software tool. :: To connect to a intrinsically safe signal circuit. :: SIL2, IEC61508.

Terminal Head TA30H

Retainer for terminal block or head transmitter + optional display. Design: explosion proof. Cover: screwed, optional window. Material: aluminium. Coating: polyester powder-coating. Colour: body blue, cover grey. Ambient temp.: -50 150 oC (housing). Protection: IP66/68, NEMA 4X (housing). Protection Ex d/XP: IP66/67 (housing).

iTEMP TMT180, Head Transmitter Pt100

Temperature transmitter,PC-programable. Application: RTD. 2-wire 4-20mA. Fault reaction: NAMUR NE 43. Mounting: head form B, DIN EN50446. UL listed.

iTEMP TMT181, Head Transmitter PCP

Product being phased out, limited availability. Temperature transmitter,PC-programmable. Application: RTD, TC, Ohm, mV. 2-wire 4-20mA, galvanic isolation. Fault reaction: NAMUR NE 43. Mounting: head form B, DIN EN50446. UL listed.

iTEMP TMT182, Head Transmitter HART

Product being phased out, limited availability. Temperature transmitter, Protocol HART. Application: RTD, TC, Ohm, mV. 2-wire 4-20mA, galvanicisolation. Fault reaction: NAMUR NE 43. Mounting: head form B, DIN EN50446. UL listed.

iTEMP TMT82, Transmitter HART

2-wire temperature transmitter. Dual universal sensor input. Galvanic isolation 2kV (input/output). Application: RTD, TC, Ohm and mV. ::Highly reliable due to drift detection and sensor back up. ::Optional also for safety critical applications by means of SIL 2/3 acc. to IEC61508.

Spare RFID TAG

Consists of: RFID TAG, fixing wire, crimp sleeve.

Gasket spares TA50-GB/NB/HB/PB/BB/CB/DB

D=6.1mm, AISI316, set includes 10 gaskets
Successor

Trend-setting, modular thermometer for direct installation, designed for use in a variety of industrial applications. Easy-to-use metric version with outstanding RTD or TC sensor technology.

RTD or thermocouple (TC) temperature assembly for direct process installation. Metric version with basic technology, non-replaceable insert for all standard applications.

iTHERM TM111

Sensor de temperatura (RTD ou termopar) sem poço de proteção, para imersão diretamente no processo. Versão métrica com inserto fixo para aplicações complexas em diversas indústrias e aplicações. Range de medição: -200 a 1.100°C (à depender da configuração) :: QuickSens: Pt-100 com melhor tempo de resposta do mercado para controle de processos otimizado. :: StrongSens: Pt-100 com melhor resistência à vibração do mercado para uma medição mais robusta e segura. :: Partes molhadas em SS 316L ou Alloy600.

iTHERM TM101

Sensor de temperatura (RTD ou termopar) sem poço de proteção, para imersão diretamente no processo. Versão métrica com inserto fixo para aplicações simples e diversas. Inserto do sensor em contato direto com o processo. Range de medição: -50 a +650°C (à depender da configuração) Materiais da haste em contato com o processo: SS 316L ou Alloy600