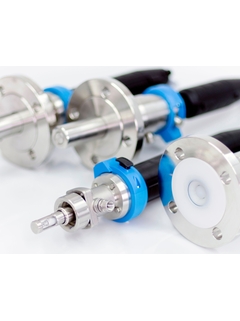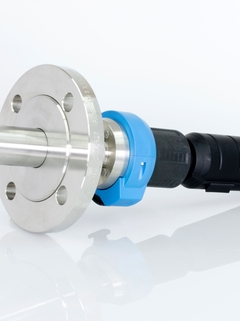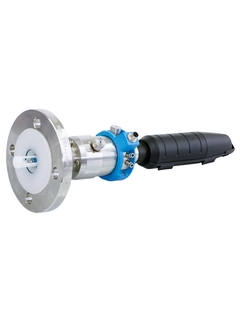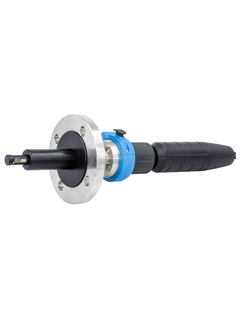 Especificações resumidas
Process temperature

-10 to 140 °C (14 to 284 °F) for all materials except PVDF and conductive PVDF
-10 to 100 / 90 °C (14 to 212 / 194 °F) for PVDF and conductive PVDF materials

Process pressure

Stainless steel, Alloy C22, PEEK:
16 bar up to 140 °C (232 psi up to 284 °F)
PVDF, conductive PVDF:
Basic version: 16 bar up to 100 °C (232 psi up to 212 °F)
Immersion chamber version:
4 bar to 90 °C (58 psi up to 194 °F)
Campo de aplicação
Cleanfit CPA871 guarantees the highest operational safety in both standard and demanding applications. Its intelligent functions prevent any leakage of medium during operation, cleaning or calibration, offering optimum protection of the process and operating personnel. The retractable assembly flexibly adapts to your application. Be it long immersion depths in sticky media, aggressive environments or hazardous areas, you choose the right material and specification to suit your application.
Cleanfit CPA871 is a retractable assembly for pH, ORP, oxygen and NIR sensors with a diameter of 12 mm and 120/225/360 mm lengths.
It has been developed for the highest safety in:
Water & wastewater industry (including seawater applications)

Chemical industry

Oil & gas industry

Power & energy industry

Hazardous areas
Benefícios
Highest operational safety: Intelligent functions prevent the assembly from moving into the process without sensor and the sensor from moving out of the process while it is in measuring position.

Suitable for demanding applications: The optional immersion chamber eliminates problems due to sticky media.

Robust assembly design: The steel support housing guarantees mechanical stability.

Flexible adaption to your process: A wide variety of process connections and wetted materials are available, even for corrosive media or hazardous areas.
Histórias de sucesso
Semi-batch polymerization

Monitoring and control of a semi-batch polymerization with Raman analyzer, powered by Kaiser Raman technology

The all-round carefree panel

Water Analysis Panels make continuous monitoring of drinking water easy at the water treatment plant in Frasnacht, Switzerland.
Produtos simples

Fácil de escolher, instalar e operar
Excelência técnica
Simplicidade
Produtos padrão

Confiável, robusto e baixa manutenção
Excelência técnica
Simplicidade
Produtos com tecnologia de ponta

Altamente funcional e prático
Excelência técnica
Simplicidade
Produtos especializados

Desenvolvidos para aplicações exigentes
Excelência técnica
Simplicidade
Versões FLEX
Excelência técnica
Simplicidade

Versão Fundamental

Atende suas necessidades básicas de medição

Excelência técnica

Simplicidade

Versão Lean

Lida com seus principais processos facilmente

Excelência técnica

Simplicidade

Seleção Extended

Otimiza seus processos com tecnologias inovadoras

Excelência técnica

Simplicidade

Versão Xpert

Controla suas aplicações mais difíceis

Excelência técnica

Simplicidade
Também pode ter interessar
No assembly, no measurement!

The safety and operating comfort of an analytical measuring point starts with using the right assembly. Our flexible assembly production ensures that you get the right assembly for your needs.