Real-time process analytical chemistry solutions
Automated measurement of critical chemical process parameters to boost plant performance
Laser-based measurement technologies like Raman spectroscopy and tunable diode laser absorption spectroscopy (TDLAS), continue to gain traction over alternative methods like gas chromatography or mass spectrometry. With no moving parts, and greatly reduced need for sampling, the used process analyzers are easier to maintain, and provide highly precise results within seconds. This enables smarter control of rapidly changing processes in real-time, without human exposure to hazardous chemicals.
How we can help
Our analytical solutions provide fast, real-time measurement of chemical compositions with minimal operating costs and safety risks. We are experts in the development of customized analytical solutions that overcome unique measurement challenges including the design of process-specific probes, analyzer racks, and shelters.
Complete application support from feasibility study through commissioning, maintenance contracts, and long-term chemometric modeling support

Process analytical chemistry solutions are engineered to meet industry standards worldwide

Global service and support network
Increase process control with in-line analytical methods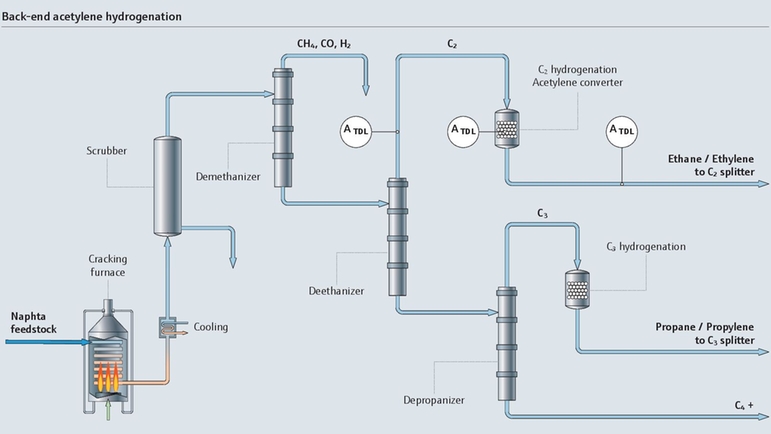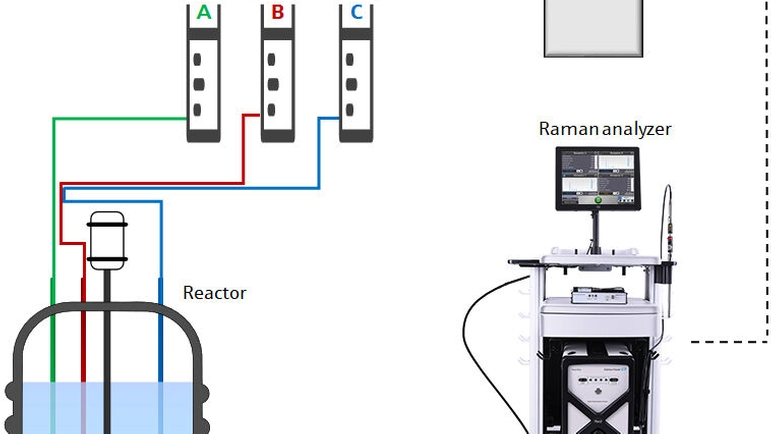 Benefícios
Process analytical chemistry (PAC) is key when striving to control and optimize your chemical processes. With in-line analytical technology, such as TDLAS and Raman spectroscopy, you will gain enhanced process understanding and control in real time. Bring your chemical plant to its next level of performance by increasing yield, improving quality, and ensuring the safest possible workplace.
Over 25

years of continued operation by earliest installed analyzers

>2000

process Raman analyzers installed around the world

100+

patents in Raman and holographic technology
Histórias de sucesso
Saiba porque nossos clientes escolhem a Endress+Hauser. Leia nossas últimas histórias de sucesso da indústria, notas de aplicações e artigos técnicos.
Semi-batch polymerization

Monitoring and control of a semi-batch polymerization with Raman analyzer, powered by Kaiser Raman technology
Produtos simples

Fácil de escolher, instalar e operar
Excelência técnica
Simplicidade
Produtos padrão

Confiável, robusto e baixa manutenção
Excelência técnica
Simplicidade
Produtos com tecnologia de ponta

Altamente funcional e prático
Excelência técnica
Simplicidade
Produtos especializados

Desenvolvidos para aplicações exigentes
Excelência técnica
Simplicidade
Versões FLEX
Excelência técnica
Simplicidade

Versão Fundamental

Atende suas necessidades básicas de medição

Excelência técnica

Simplicidade

Versão Lean

Lida com seus principais processos facilmente

Excelência técnica

Simplicidade

Seleção Extended

Otimiza seus processos com tecnologias inovadoras

Excelência técnica

Simplicidade

Versão Xpert

Controla suas aplicações mais difíceis

Excelência técnica

Simplicidade
Tecnologia

Tecnologia ultrapassada, mais cara que as alternativas modernas

Evite paradas de produção e perdas financeiras modernizando seus equipamentos mecânicos obsoletos. Saiba mais sobre como substituir seus equipamentos de medição desatualizados.

Leia o artigo completo

Segurança

Segurança do processo na indústria química, maior disponibilidade na planta

Sustente sua produtividade, eficiência e segurança de processo através de medições confiáveis.

Leia o artigo completo