Digital pH sensor
Memosens CPL51E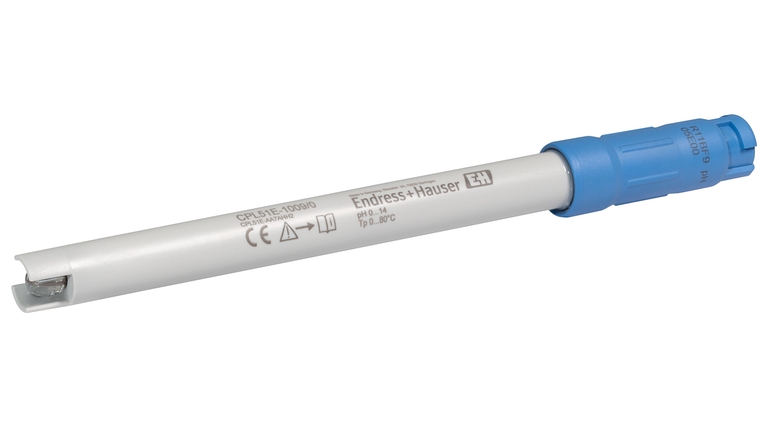 Memosens pH electrode for standard applications in laboratories and in the field
With its robust plastic shaft, the glass membrane protection and metal free connection, Memosens CPL51E can be used for grab sample analysis directly in the field or in the laboratory. The sensor comes pre-calibrated and is directly ready for use. Ideally to be used in combination with the mobile handheld Liquiline Mobile CML18 without any additional settings.
Produtos simples

Fácil de escolher, instalar e operar
Excelência técnica
Simplicidade
Produtos padrão

Confiável, robusto e baixa manutenção
Excelência técnica
Simplicidade
Produtos com tecnologia de ponta

Altamente funcional e prático
Excelência técnica
Simplicidade
Produtos especializados

Desenvolvidos para aplicações exigentes
Excelência técnica
Simplicidade
Versões FLEX
Excelência técnica
Simplicidade

Versão Fundamental

Atende suas necessidades básicas de medição

Excelência técnica

Simplicidade

Versão Lean

Lida com seus principais processos facilmente

Excelência técnica

Simplicidade

Seleção Extended

Otimiza seus processos com tecnologias inovadoras

Excelência técnica

Simplicidade

Versão Xpert

Controla suas aplicações mais difíceis

Excelência técnica

Simplicidade
Especificações resumidas

Measurement range

pH 0 to 14 (1 to 12 application range)

Process temperature

-5 to 80 °C (23 to 176 °F)

Process pressure

1 bar, not intended for continues measurment in process
Loading alternative products
Seleção rápida
Escolha uma das opções sugeridas
Configuração individual
Continue sua seleção entre todas as opções possíveis
Benefícios

The inductive Memosens sensor connection is insensitive to moisture and corrosion.

Suitable for use in the laboratory or in the field to check your running process. A physical protection keeps the glass membrane safe in both environments.

Automatic...
Campo de aplicação

Memosens CPL51E is suited for the following applications in drinking water, wastewater and process water:

Check of on-line measuring loops

Analysis of grab samples (on-site as well as in the laboratory)

pH measurement at process points where no...
Documentos / Manuais / Software
Histórias de sucesso
The all-round carefree panel

Water Analysis Panels make continuous monitoring of drinking water easy at the water treatment plant in Frasnacht, Switzerland.

Compliance made easy

The automated phosphate monitoring with Liquiline System CA80PH helps the food company Pasfrost ensure the compliance with the strict limit values for its industrial wastewater.
O monitoramento de água salva vidas

A água é cada vez mais considerada um produto valioso na maioria dos países. Portanto, a aceitação do desperdício de água está diminuindo continuamente e a necessidade de controlar a qualidade da água está aumentando.